Reading Time:
7
minutes
Every evening after I put my girls to bed, my wife and I have an hour or so to enjoy another episode of whatever show we're engrossed in, whether that's Stranger Things or Queen's Gambit or, more recently, one of the historical dramas that's become so popular.
No, not Bridgerton. We've been watching a show set hundreds of years earlier in Great Britain called The Last Kingdom on Netflix. There's an interesting character there that, once you've pealed away the violence and drama, there's not only historical truth, but also business truth, that I wanted to get into today with you. A lesson that within a few episodes of the show came to me quite clearly and which will help you make your business stand out and succeed.
Imagine if you could articulate to your target audience exactly why they should do business with you, in a way that no other competitor could duplicate? That's what we're digging into in today's episode of Marketing Hyperdrive.
Great Britain in the 800's was not the organized civilization that it is now. The land was divided into several different and competing countries and territories constantly at war with each other and their neighbors. Danish Vikings saw plentiful opportunity and raided the English countryside routinely.
In the year 871, as the Danes swept across the land, the kingdom of Wessex to the south was one of the last remaining strongholds to stand in defiance against in the invaders. Led by King Æthelred and his brothers and father before him, the region seemed doomed to conquest. And in fact, lost a series of battled which ultimately led to Æthelred's death and the reign of his brother, Alfred. Alfred, though, was different. He had cunning that many in the region lacked and brought wisdom and foresight to the throne.
After a few years of victories and defeat from both sides, in 878, Alfred and his staff were attacked suddenly and Alfred's family fled to swamplands where they could hide and regroup. Any other king of the age would have been finished. His people would have been disorganized and, without a leader to guide them, left to fend for themselves and die under the heavy axe of Viking marauders.
And yet, Alfred found a way to emerge from the swamps and fettid history books to achieve both land and legacy.
He leveraged a truth about himself that was simple yet profound, which reminded me of the time I studied Eric Ries's book "The Lean Startup" as part of an entrepreneurial project. We've talked about Lean Startup before in reference to creating quick, agile versions of your product or service that you can test and iterate and improve rapidly. Well, before you take the step of building an MVP, you're supposed to build a Lean Canvas. This is a one-page business plan that has been defined into a series of statements, usually displayed in a grid format. How they're formatted is less important that the statements and questions that you think about and write out.

You start by identifying the top one, two or three problems that your business solves for, and the possible solutions for each specific problem.
For instance, at Agorapulse, one of the key problems our customers face is staying on top of comments, replies, mentions and private messages coming at their brand from customers on multiple social networks, so our solution is to provide a social media management dashboard that pulls all of that important customer communication into a single Inbox.
If you're building a lean canvas for your business, or even a new product or service you're considering, you would go on to identify the Key Metrics that will tell you how the business is going, including how you will charge for it and where that revenue is expected to come from. You'll think about your Unique Value Proposition – a clear message that states why you are different – along with the channels you'll use and the customer segments you'll target.
One aspect of the lean canvas – and most business plans – that is too often overlooked (because it's hard to identify), is your Unfair Advantage. What is it about you or your brand that another competitor cannot easily buy or replicate?
While you may be tempted to answer, "Me" or "My people" those answers are too vague to be either true or leveragable. Generally most anyone can be hired to do most anything, so it's hard to definitely say that so-and-so is irreplaceable.
No, you'll need to look harder.
For some brands, they can easily state that they were first to market with their particular product and solution. That's an undeniable competitive advantage that offers brands market share and a brand reputation that can be difficult to dislodge.
An example from the manufacturing sector might be a brand that controls both their supply chain and their production facility, allowing them to charge significantly less than their competitors. Along the same lines, brands like Walmart or Amazon that have such massive footprints wield powerful buying power that leads to prices far below what local alternatives can offer. If you can buy a Craftsman Hammer from Amazon for less than $12, delivered to your front door for free within 2 days, why would you drive to a local hardware store and pay twice as much?
And that example is why going through this exercise is so important. If YOU are the local hardware store, you know you cannot compete with the 'big box companies' on price so you need to find a different competitive advantage. Why would someone choose to shop with you instead of a chain store?
Perhaps it would be because the people in your neighborhood know you, personally, and you know people like to do business with people they know. If that was me, I'd invest in a marketing campaign that made sure to introduce me to every household in my target market through direct mail, smartly targeted advertising, and live videos.
Personally, one of my competitive advantages is the depth of my relationships with key influencers and brands in the social media marketing space. Because I've deliberately and delicately managed countless relationships over the course of the past decade, I've positioned myself as a networker of networkers and that's not something that another brand or professional can easily purchase or duplicate.
Once identified, brands can consider how their unfair advantage can best be used to reach their target customer segment, deliver their unique value proposition, and position their solution successfully.
What would one of your unfair advantages be?
So when Alfred was twelve years old, he learned to read and began studying both the Bible and whatever other books he could get his hands on in Wessex in the 800's. Such page-turners as Gregory the Great's "Pastoral Care," Boethius's "Consolation of Philosophy," or St. Augustine's "Soliloquies" which, at the time, were only available in Latin. Alfred sought to translate these and other works into Old English and, at the same time, worked to educate more of his staff on their letters. By the time he took the throne, Alfred had actually established a reading and writing caste of nobility, along with a network of informants that spanned the region. Every meeting he had transcribed and would receive innumerable dispatches each day, keeping him abreast of the Viking's movements.
This seemingly most basic of abilities… to read and write… turned out to be a distinctive advantage when confronted with a horde of violent warriors from the sea. While the Vikings were more than capable of complete carnage, they had no means to send reports or important information swiftly across great distances unless the messages were communicated orally. So when Alfred found himself isolated in the swamps in 878, he still retained control and offered direction by dispatching monks with signed and sealed letters.
Alfred leveraged his strength to achieve a distinct tactical advantage against his foe which resulted in decisive victories. Alfred won back control of Wessex and went on to unify England, ejecting the Danes and establishing his legacy for a millennia.
Opportunities to learn and train
Clubhouse: What Is It And Why Should Agencies Care?
Clubhouse, Clubhouse, Clubhouse. Everyone's mentioning the new social platform. Here's the scoop on what it is, why it matters for agencies, and best practices for the Clubhouse app. Read More
How To Save Time And Streamline Your Show Notes
If you live stream regularly, you need to repurpose content. Every new piece of content you create is an opportunity for your audience to learn from you. It's also crucial to find tools that work for you and help you develop workflow processes. Read More
Video Marketing Show
Brilliant star and FB ad guru Amanda Robinson is kicking off a new live video show this week focused on how you can leverage paid media to explode the success of your show and business. Be sure to follow her on Facebook.
Grow Your Channel Faster With A Virtual Assistant
If you're ready to scale your business and level up your live stream, there is one vital next step you need to take: hire a rockstar virtual assistant. Watch Here.
Fun collaboration and partnerships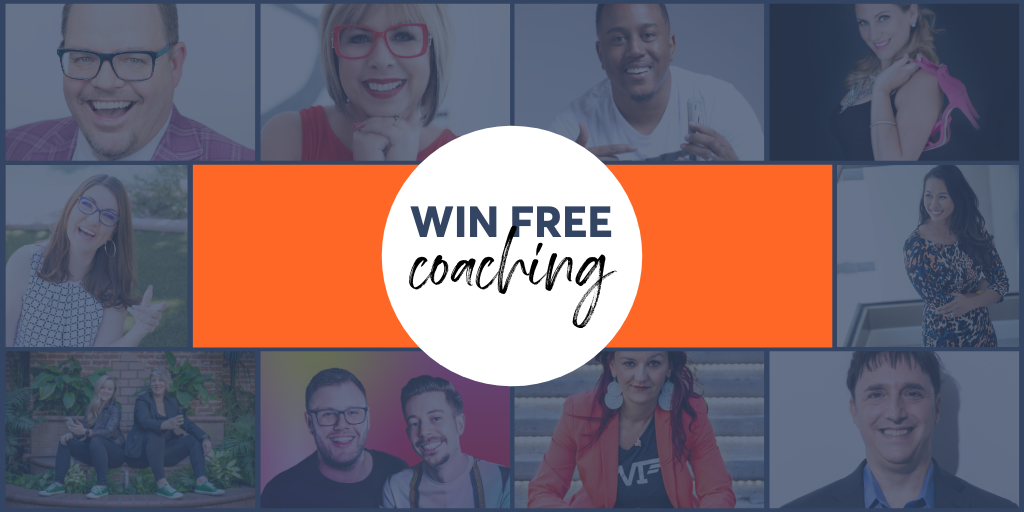 Win Free Coaching
Here's your chance to win TWO FREE HOURS of one on one coaching from Jay Baer or Kim Garst or any one of a dozen other incredible experts. Whether you're interested in building a kick-ass marketing strategy or driving more revenue from ad campaigns, you'll find the help you need. Enter To Win
Interesting events and meetings
Upcoming Events & Speaking Engagements
Laughs and other galactic entertainment
Here's yet another reason to make sure that if you're going to make filters available for your work camera, you know how to turn them off.
Trinkets and spare parts that might be just what you needed
Complete Content Marketing Training for just $97
I'm in the midst of updating and adding to my Blogging Bootcamp. The video training currently sports 10 full modules and will soon have another dozen supplementary topics! You can get a head start, and save some dough, by registering today.
One More Thing… don't forget this month's Instagram Summit! It's going to be AMAZING! Just check out our featured speakers: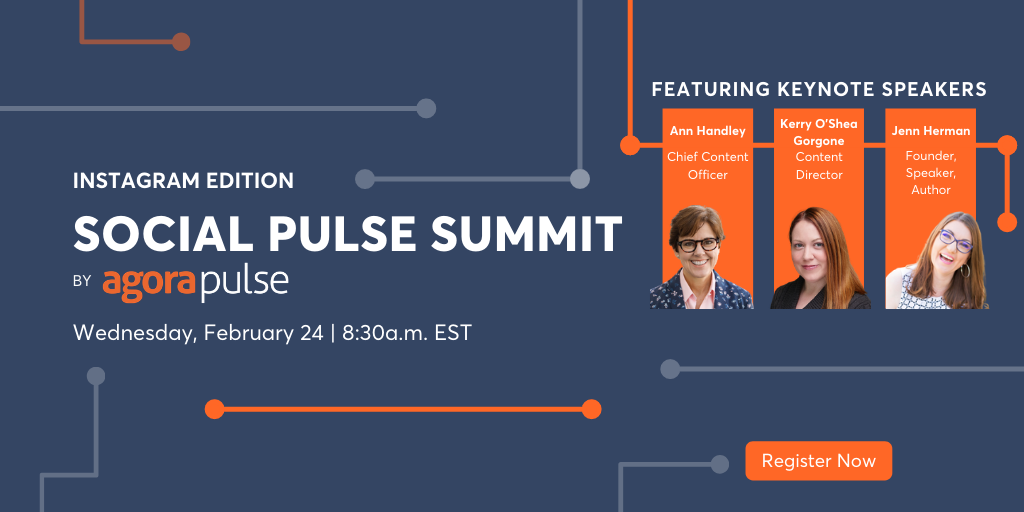 SPONSORED BY: Agorapulse, the #1 rated Social Media Management Tool! If you're busy juggling multiple profiles, spreadsheets, calendars and clients, investing in a solid social media management tool is the way to save your sanity and make you look awesome to the boss. And as a friend, I can get you two months free here!
Want to save time with your social media activity and yet get even more results? Use the #1 rated social media management tool, Agorapulse, and as a friend of Mike Allton, you're eligible to receive your first two months free after trial! Go to https://www.Agorapulse.com/Allton to learn more and get started.