Reading Time:
6
minutes
Welcome back to Marketing Hyperdrive! We missed a week because I was on a magical adventure with my wife and two girls – a road trip from St. Louis, Missouri to Orlando, Florida where we spent four nights at Walt Disney World. We shopped at Disney Springs, swam in three different magnificent pools, and spent entire days at Magic Kingdom, Hollywood Studios and Animal Kingdom – all to celebrate my youngest's sixth birthday.
And while I could go on like a Borolean Trader about Galaxy's Edge, or about how Disney really does create the most magical places on Earth, what I am going to share with you is a little thing… some detail so small as to be easily overlooked (even if you're a scrupulous Jawa)… yet it had a profoundly positive and personal impact on my family's enjoyment of all Disney's properties. And of course we'll blaze through the story at light speed so that you'll arrive at your destination, transmission in hand.
So what made me want to drive my family 1,000 miles, during a pandemic, and drop a significant chunk of change, all to celebrate a little padawan's birthday?
The experience.
We've been to Disney before for my oldest's birthday and knew just how awesome it was going to be. From meeting their favorite characters to the thrills of incredible rides, my girls adore Disney. (Heck, so do I!!) What's interesting though is how Walt Disney World makes sure that it's special for you, particularly if it's your special day.
As soon as you arrive and check in, if it's your birthday, you're given a special pin to wear.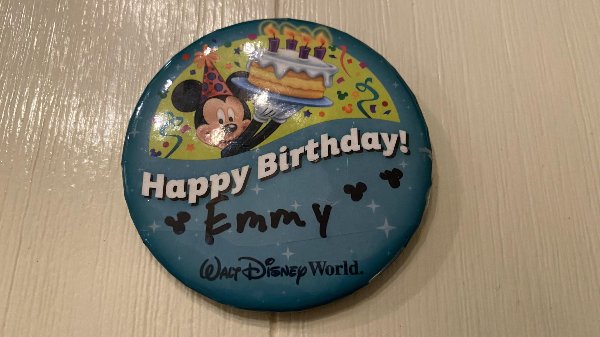 A round disk pinned to your chest that simply says, "Happy Birthday! [Your Name Here] Walt Disney World" – with your name scrawled onto the laminated signage. It seems straightforward enough, and that's what masks the genius behind what's written.
If you think about most birthday pins or hats you might have seen, the message is similar, right? Here's an example from Amazon: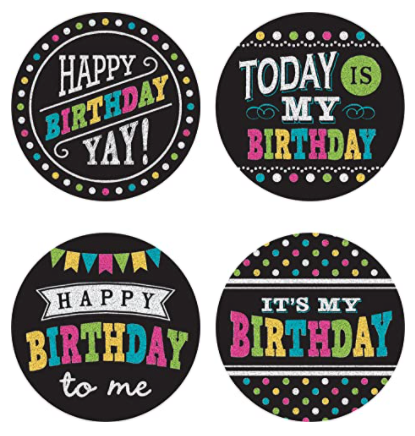 "It's my birthday" or "Happy birthday to me" all convey the same message – that today is your special day. But Disney wanted to do more than just let other people know that it was your birthday and hope that someone said something. They wanted to issue a First Order-like decree that all cast members need to acknowledge you and celebrate your occasion. So instead of giving you a pin that says, "It's my birthday!" that someone else would need to read and then decide on their own what to say, you were given a pin that says, "Happy Birthday [Your Name Here]" which anyone in any park or at any resort or restaurant can simply read out loud while looking and smiling at you.
Imagine what it must have been like for my little girl, Emmy. As we strolled into Hollywood Studios one bright morning, crowds around and cast members in white suits from head to toe welcoming guests, first one, then another, and then a dozen all turned to my daughter and said over and over again, "Happy Birthday, Emmy!" Her eyes sparkled and she couldn't wait to tell her big sis how all these people talked to her, and it warmed her old man's heart.
Almost as much as seeing the Millennium Falcon up close…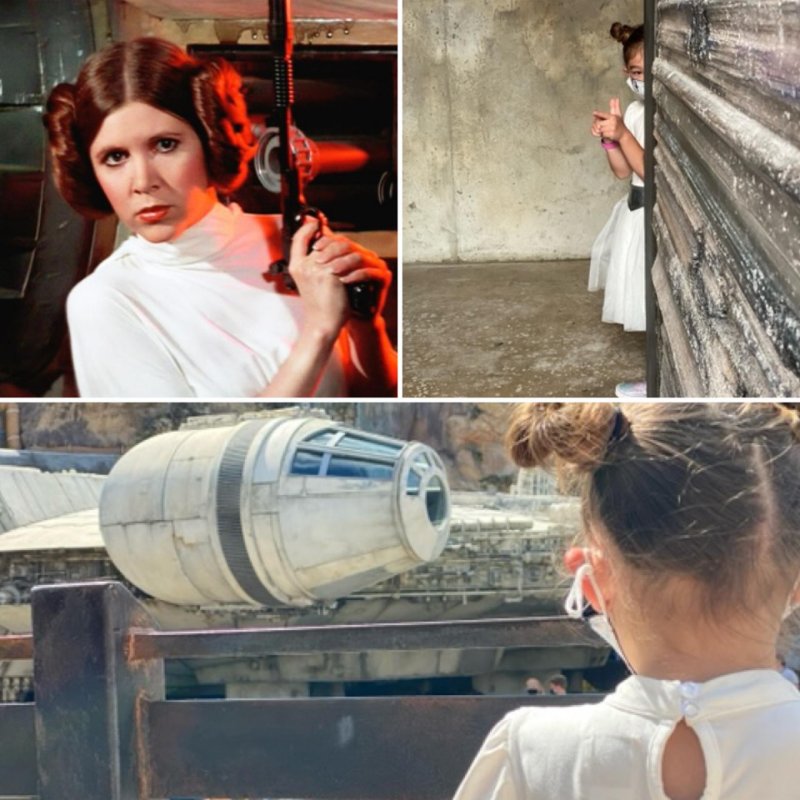 From a business & marketing perspective, what we're talking about here is personalization at scale. Disney put time and effort into coming up with a clever way to make everyone choosing to celebrate their birthday at a Disney property feel special and welcomed – so much so that they'll want to experience that again!
While it's unlikely the nature of your business will allow you to pin badges on your customers just to celebrate their birthday, there are ways that businesses of every size can create personal, 1:1 connections with customers and prospects alike. Determining how to do this successfully and creatively should take time to sort out, so don't expect any easy solutions from me…
Except I happen to have one for you already. ?
Despite being touted for years as the tactic businesses need to employ, live video still remains something of a challenge, perhaps even an enigma, to many business owners. Some don't see the value in taking the time to broadcast a live video, let alone know what they might say. That, plus the uncertainly that comes from trying anything new, creates doubt and anxiety.
Perhaps you can relate to that?
Yet if you were to develop a routine and format for a regular live show, here's what will happen:
You will begin to amass a library of video content which can be viewed, searched and consumed on multiple platforms, as well as repurposed into audio and written content for a podcast or blog (here's how).
You will allow your fans and followers to see you as an individual rather than a brand, which makes it easier to develop personal connections and relationships.
While I'm sure that sounds great… where's the one-to-one personalization and connection?
That, my friends, lies in the key difference between broadcasting live and simply sharing a recorded video: audience participation.
When you broadcast a live video to Facebook or YouTube or LinkedIn or Periscope or Instagram or TikTok (notice how virtually every platform now supports live video?), you as the broadcaster can see your viewer's names and comments. You can address them by name, answer questions, bring comments on the screen and, if you really want to, even bring your viewers onto the broadcast with you.
And when you talk directly to someone in your audience, even if it's just to say Hi and read their comment out loud, you help establish that personal connection we've been talking about. You acknowledge them and literally make eye contact – from their perspective. It's like you're saying "Happy Birthday!" to your viewers and making them feel welcome and appreciated.
If that's something you want to learn more about, Chapter 7 in our book, Ultimate Guide to Social Media Marketing goes into depth, and you should definitely join the Social Media Strategists Facebook Group.
Meanwhile, I have a ton of other great resources and golden nuggets to share with you:
Opportunities to learn and train
Podcast Interview on Blogging
A short while back I had the pleasure of recording an interview with Phillip and Eimer of Let's Get Social, all about my blogging experience and processes. It was aired on Irish radio, which was pretty cool, and of course is available to consume at your convenience. Listen Here
Free Forever Social Media Marketing Lessons
The Social Media Manager School has opened up an incredible library of valuable training and materials, featuring lessons from talented instructors like Stephanie Liu, Kim Garst, Jay Baer, Mark Schaefer, Christopher Penn, Amanda Robinson, Jenn Herman, Jeff Sieh, and many, many more! Enroll Here
Why Live Streaming is Both Easier and Harder Than You Think
Live streaming is one of the best ways to show your audience your expertise and authenticity, making it so much easier for them to build rapport with you. Stephanie Liu shares many useful tips from pre-production to what you can do to build on the original content you have created on Jay Baer's Convince & Convert podcast. Listen Here
We Whisper Too Quietly On Social Media
One of the lessons I took from Star Trek, several years ago, still rings so true I migrated the article from Facebook Notes to my full blog. Read More
Fun collaboration and partnerships
Recent Interviews With Friends & Colleagues
Let's Talk About Brand with Christine Gritmon, featuring the entire 360 Marketing Squad [watch here]
Marketing Smarts with Kerry O'Shea Gorgone, featuring the entire 360 Marketing Squad [listen here]
Interesting events and meetings
Upcoming Events & Speaking Engagements
Social Media Conference Suriname 2020, Oct. 26-30 – Keynote on Influencer Marketing [learn more]
Social Pulse Summit: Twitter Edition, Nov. 18 – SAVE THE DATE!
A Few Happenings & Updates To Read About
Here's what happens, according to the Washington Post, when partisan media outlets try to publish and spread disinformation on social networks now that the networks are being pressured to control "fake news."
According to Pew Research Center, 23% of users in U.S. say social media led them to change views on an issue; some cite Black Lives Matter. I found that number to shockingly high! How about you?
In this piece from Scientific American, the concept of social media influence is explored and theories are offered as to why social media today feels so polarizing.
Laughs and other galactic entertainment
My Latest Gaming Obsession…
…is not Quidditch, but rather an app: Harry Potter: Puzzles & Spells. It's basically Candy Crush with a Harry Potter theme and it's frightfully fun, just in time for Harry's birthday. While I get stuck often, I like that I can pick it up and put it down whenever I want a quick break. Check it out.
Trinkets and spare parts that might be just what you needed
Pre Orders available for the 2021 Ultimate Blogging Planner!
The Ultimate Blogging Planner for 2020 featured over 40 worksheets and schedules to help you strategize your content, track all of your ideas, monetization options, and more, and get everything calendared out. And now you can pre-order the 2021 updated version for the rock-bottom discounted price of the 2020 planner. Get Yours Today!
Never Run Out Of Things To Say In Your Live Videos
The Video Script Maker is the total solution toward making sure that your live videos are fun, educational, and entirely unique, each and every episode. Simply plug in your show details like name, host name, and so on, and immediately generate tens of thousands of variations on openings, introductions, calls to action and more. Check it out.